According to TechNavio, the smart glass market is still at its very early stages. The market is expected to grow at a CAGR of 141% and reach US$26.7 billion by 2020. At the moment, the majority of smartglasses users are not private individuals. They are, instead, companies. According to the report, enterprise applications account for 97% of the entire market. This is not surprising. High prices and not-so-sleek designs are small sacrifices that must be done in the name of productivity. We compiled a list of current options to choose from.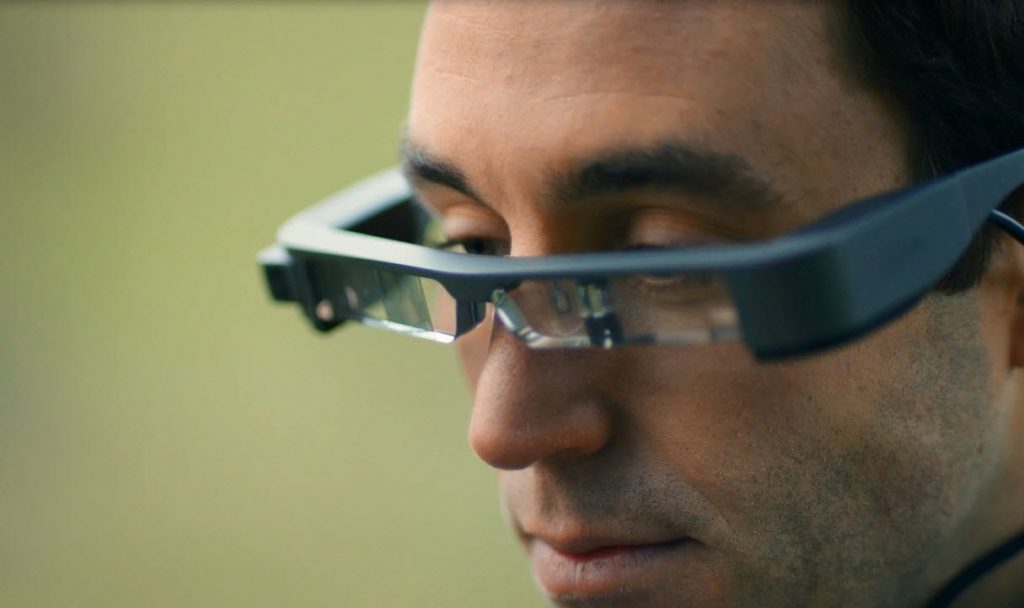 Vuzix M300 Smart Glasses
The Vuzix M300 takes a rather simple, yet effective approach to AR. Essentially, the M300 is a mountable computer with a tiny monitor. This can be mounted on a pair of glasses frames (sold separately) over the left or right eye. Of course, the M300 has numerous sensors for head tracking, a camera up front for photo capture, 64 GB of onboard storage, a touchpad for controls, speakers, microphones for voice control and noise canceling, and last but not least, an 860 mAh battery – among a few other sensors and ports. There's also a 13-megapixel camera. Suffice it to say, the M300 packs a lot into its small, lightweight frame.
Vuzix Blade AR
Vuzix presented their Blade smartglasses at this year's CES. They make AR glasses look better than ever, in more ways than one. They're not totally consumer-focused, but Vuzix is hoping that it's a large step in that direction. Alexa is on board to help you out with all your smart assistant needs, and you've also got things like turn-by-turn navigation, location-based alerts (think Yelp reviews) and messages. The display is really good, with even photos looking crisp and vibrant. There's also an 8MP camera on board, with 4GB of storage to fill up with what have you. As for battery life, you can expect around 2 to 2 and a half hours. The Blade AR is maybe the best move toward mainstream AR glasses we've seen yet, and while the dev kit will be available for $1,800, the company thinks that could go down to about $1,000 in due time.
ODG R7 AR
Packed with sensors like gyroscopes, magnetometers, and accelerometers, as well as the latest Wi-Fi, Bluetooth, and voice-recognition systems, a 4-megapixel front-facing camera plus global navigation satellite system technology, powered by Qualcomm Snapdragon 805 processor, R-7 users can do a lot with the glasses. To top it off, each lens also features an independently driven 720p lens capable of showing content at 80 frames per second with full 3D visualization. The lenses were designed to be 80% transparent and are interchangeable with prescription lenses. There's also a more durable version, dubbed the R-7HL, which is available for those who need smartglasses in more hazardous conditions.
ODG R8 and R9
The R8, dropping at the end of 2018, and R9, which is now shipping in limited quantities, are also options offered by the company. They both offer a bigger field of view than the R7 models – 40 degrees for the R8 and 50 degrees for the R9. There's also positional tracking, which is a big deal. Thanks to the Snapdragon 835 processor inside, each also offers higher res images – dual 1080p displays on each of the new specs. The R8 glasses are the sleeker and lighter of the two, and more aimed at regular people, with a pair of 1080p cameras that are said to be able to capture 3D video. ODG has managed to get these way down in price too, though they're still not cheap.
Epson Moverio BT-300
The BT-300 smartglasses ditch the clunky look of their predecessor, returning with a sleeker, more polished pair of AR smart glasses. The BT-300 is lighter than the previous model and not quite as geeky-looking either. It uses a significantly sharper 720p HD resolution OLED display and now packs a 5-megapixel front-facing camera. It's also powered by an Intel Atom quad-core processor with Android Lollipop covering the software bases. While Epson's smart glasses have always been quite business-focused, it has teased the prospect of using them in the gym to race in virtual environments – and there's also a drone edition so you can use them to control your DJI drone straight from your specs.
Epson Moverio Pro BT-2000
The Moverio Pro BT-2000 is based on Epson's existing BT-200 model, with a more rugged design and a juicier specification. This time around, Epson is tempting engineers with a 5-megapixel stereo/3D camera with depth sensing, head tracking and support for augmented reality. A tethered controller offers microSDHC card slot memory addition and hot-swappable battery.
Epson Moverio Pro BT-2200
The Moverio Pro BT-2200 is a more rugged eyewear that's meant for hazardous environments. Designed to fit above a helmet, it allows users to see exactly what their counterparts are doing. Incorporating various sensors and connectivity options, users are able to create an interface that utilizes gesture controls, head tracking, and even voice commands.
DAQRI Smart Glasses
DAQRI Smart Glasses are portable, lightweight, powerful augmented reality wearables designed for professional workers. Expect the best Professional Grade AR™ solution on the market, offering a wide 44-degree field of view, a 6th generation Intel Core m7 Processor, and a suite of sensors to capture valuable information about the surrounding environment. DAQRI Smart Glasses come with DAQRI Worksense Standard, a productivity suite of essential AR applications.
Microsoft Hololens
Microsoft made the HoloLens available to developers and enterprises back in 2016. Shipments started on 30 March 2016 to those in North America, with a release in Australia, Ireland, France, Germany, New Zealand and the UK following on 12 October 2016. Although the HoloLens currently comes in two flavors, the only difference between the developer edition and the Commercial Suite is what comes in the box. The hardware is exactly the same, but the Commercial Suite comes with enterprise-grade software and features to make it easier to showcase what HoloLens is capable of. The HoloLens was conceived as a workplace-first product. It can be a powerful tool for collaborative working, for training workers or for other educational experiences. In the field, we've seen it used for visualizing 3D architectural renderings; for auto prototyping, without the need for models; and for medical training, without the need for real bodies.
Google Glass Enterprise Edition
Google Glass, Google's augmented reality (AR) glasses, originally debuted in 2012 but was officially discontinued in 2014. But after nearly four years of skunkworks development, the search giant pulled back the curtain on Glass' next chapter: An industrial, corporate version called Google Glass Enterprise Edition. Glass Enterprise Edition features a headband-like piece of metal that perched on the wearer's nose, a frame that's compatible with prescription lenses, and a ruggedized design built to withstand falls and exposure to moisture. The camera button, which sits at the hinge of the frame, does double duty as a release switch to remove the electronics part of the unit (called the Glass Pod) from the frame. Other upgrades include a larger display with an expanded field of view, a beefier battery, an improved camera (from 5MP to 8MP), a speedier Intel processor, and a high-speed 5GHz Wi-Fi chip.
RealWear HMT-1
"HMT-1" is a head-mounted Tablet from Realwear. It is designed for skilled technicians and engineers in field service, equipment inspection, maintenance and complex manufacturing assembly. This headset is rather fascinating. Basically, it is an Android tablet that uses voice commands rather than touch and sits on your head using a small high-resolution display angled below your field of view. The advantage of this solution is that it is untethered, developers used to develop for Android can develop for it, and the learning curve is very short. The high-resolution microdisplay fits just below your line of sight and views like a 7" tablet. It's an industrial dashboard: there when you need it and out of your way when you don't.
Toshiba dynaEdge AR
Toshiba's dynaEdge AR system is a rugged, lightweight AR glasses solution that comes complete with a navigational handset and is compatible with Windows 10. Using Vision DE Suite, businesses can work with Toshiba to set up data and cloud systems tailored to their needs. Toshiba's technology can be scaled and immediately incorporated into a business's workflow. dynaEdge supports storage up to 512GB and includes up to 16GB of RAM. The glasses arm, which can be mounted on Toshiba glasses, can be pivoted so the viewer can choose how to view the device's screen. It also has a touch sensor on the side, a speaker and a camera. It offers a 5MP capable of 1080p video recording.
X1 Smart Glasses
X1 Smart Glasses boast dual stereoscopic 720p see-through displays capable of 40 degrees field of view. The displays project images that deliver the equivalent of a 90-inch screen as seen from 10 feet away. And while the lenses are photochromatic, adjusting for tint based on sunlight, they can also be swapped out for prescription lens. Along with Bluetooth and Wi-Fi connectivity, the devices are equipped with 13 megapixel HD cameras, an array of sensors, and a flashlight. With 32 GB of built-in storage, the X1 also possesses a microSD slot, a microphone jack, and a USB Type-C port for data transfer and charging of the swappable 2,400 mAh battery.
GlassUp F4
The consumer-oriented GlassUp prototype, which displays notices from your smartphone, appears to have evolved into an Uno model that also seems to have gone nowhere. However, the company claims it has interested manufacturers in a new Linux-based, AR visor style GlassUp F4 model that was officially announced in March 2017. The industrial-focused GlassUp F4 features a multi-color, 21° FOV AR display, plus a video camera, a thermographic camera, voice controls, WiFi, and an "illumination system." Other applications are said to include indoor navigation, e-learning/on-the-job training, and teleservice. The product, which is also referred to as the GlassUp Pro, still appears to be in the prototype phase, but GlassUp claims it will soon be certified as Personal Protective Equipment for the European market.
Meta 2
Meta, a company based in Silicon Valley, emerged in 2013 on the back of a successful Kickstarter campaign. Meta 2 is a tethered, head-mounted device. That means it requires a connection to a traditional PC to function and is designed to be used in a stationary location, with no ability to wander around your real-world environment. Crafted around the idea of being a replacement for your 2D screen, Meta 2 plugs into your computer's video port, with sensor input and image processing being handled by the connected PC's processors. Using a semi-spherical large combiner optics system (which explains the sheer size of the device), along with the wide FOV, seems to produce a somewhat more transparent image than the HoloLens. Like the HoloLens, the Meta 2 also offers a collection of sensors and is also capable of creating an environment map to allow interaction with the real world. This includes the use of gestures to control the AR software being used.
Magic Leap One
In some ways, the Magic Leap One is a bridge between the HoloLens and the Meta 2. The headset is tethered, though not in the way the Meta 2 is. A cable connects the HMD to a small hip-mounted computer that handles the primary data and graphics processing. Between the Magic Leap One's tethered brain and the company's choice of light fields for near-eye optics, the headset is much smaller than the HoloLens and the Meta 2. And with the device's smaller size came a big trade-off: accessibility to all. Unlike the HoloLens and Meta 2, the Magic Leap One does not directly accommodate people who wear corrective lenses. Another feature that comes as a result of Magic Leap's decision to use light fields for optics is something sorely missing from the HoloLens and Meta 2: depth of field. The ability to blur and focus virtual objects will give them more presence in our world when using the device. Generally, the collection of sensors on the Magic Leap One seems comparable to the HoloLens.